Resellers
We are the Smartwares Group. A leading player in smart Safety, Lighting & Home Appliances with offices in The Netherlands, Belgium, UK, Germany, France, Spain, Portugal, Italy, Sweden, Lebanon, Turkey, Hong Kong and China.
We offer:
A wide and deep range of products in a broad variety of product categories: In our assortments we have a clear range build up from good, to better to best. And we offer innovative and exclusive products.
Private label: Together with our in-house design team we develop and deliver private label products for many customers around the globe.
Creative logistic solutions: You can buy smaller quantities from our warehouse in The Netherlands or mixed containers and full containers directly from the Far East.
Stock: We have between 1.000 and 100.000 pieces of stock of all our active items in The Netherlands. This way you can always be served on short notice.
Quality: Our quality team in The Netherlands, Germany and Far East make sure that all our products meet all necessary regulation and quality standards.
A great showroom: You can experience all our products and concepts in our brand new showroom in The Netherlands: https://youtu.be/-HW94-IVHSc.
Rich product information: Outstanding product images, product video's and SEO friendly texts.
Easy access to our content: Via our Content Download Center, Icecat Open Catalog and Autheos.
Fast and easy ordering of our (newest) products: Via EDI and our B2B webshops.
24/7 online product support for your consumer: Via our after service websites, created for all of our brands.
Our Brands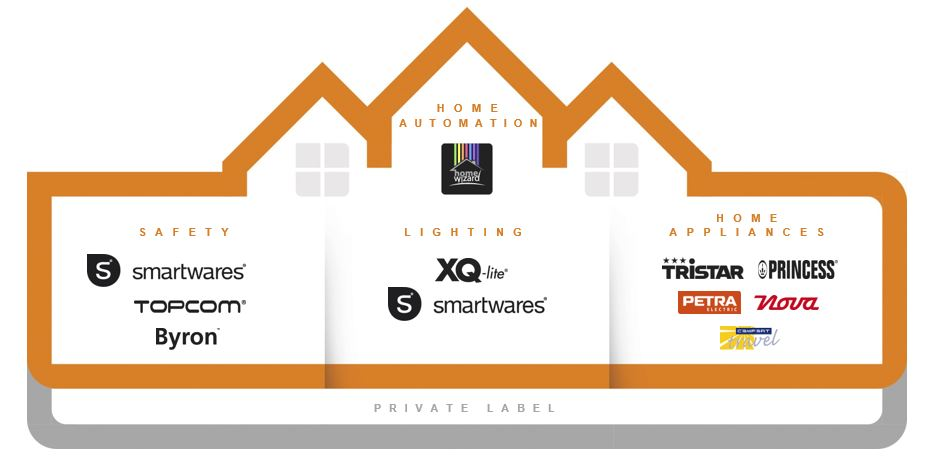 Want to know more about our brands? Visit our brand page!
Product Categories
We offer the following product categories:
Home Appliances
Sound & Vision
Outdoor Living
Kidzzz
Home Automation
Door Entry
Alarm
Camera
Functional Lighting
Outdoor Lighting
Indoor Lighting
Smartlights
Bulbs
Fire Security
Kids Care
Interested?
We welcome resellers from all over the world. Are you interested in our story and what we can offer you?
Please send us an e-mail at sales@smartwaresgroup.com or fill in our contact form.