Tristar has expanded the fun cooking range of Smartwares Group with the Pizza Festa. The Pizza Festa from Tristar is a variant of gourmet with which you can make the tastiest pizzas with your friends or family while sitting together at the table. The Pizza Festa is available in two different variants: a variant for four people and a variant for six people.
Making your own pizzas becomes a real fiesta with the Pizza Festa from Tristar. Together with family and friends you can make the most delicious mini pizzas with your favorite ingredients. Ideal for the holidays, quality time with your friends and family or any other special moments. Thanks to the handmade Terracotta dome, the pizza oven reaches a high temperature, which ensures deliciously crispy baked mini pizzas.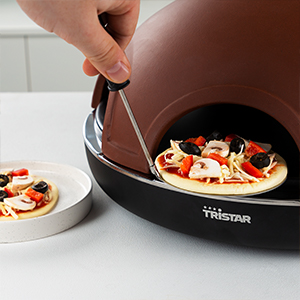 The Pizza Festa from Tristar comes with pizza spatulas and pizza cutters. With the pizza cutters you can easily shape the dough, so you can make beautiful tight pizza bases, that you can invest to your own liking. 
When you have finished eating the mini pizzas, you can easily clean the pizza oven. The Pizza Festa is equipped with washing machine resistant parts and a non-stick coating. So, cleaning the pizza maker is easy.
The Pizza Festa has an excellent price-quality ratio, making them affordable for everyone. The Pizza Festa also has a sleek design and the heating elements are safe and developed according to the latest technologies.
Curious about this innovation? View the Pizza Festa on our website now for more information! Are you looking for sales opportunities? Please do not hesitate to contact us.
---
Note to editors
Contact
For more information please contact:
Name Monica Meesters 
E marketing@smartwaresgroup.com
T +31 (0)88 594 0585
For high resolution pictures:
www.smartwaresgroup.com/press
Article numbers
PZ-9154 / PZ-9156 – Tristar Pizza Festa
---
About Smartwares Group
Princess Household Appliances is part of Smartwares Group. More information can be found on www.smartwaresgroup.com.
Smartwares Group
Jules Verneweg 87
5015 BH Tilburg, The Netherlands